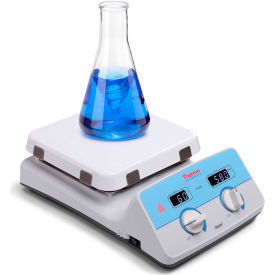 Thermo Scientific™ Magnetic Stirrers
Thermo Scientific™ Magnetic Stirrers Are Used For Applications Including Medical, Laboratory And More.

Thermo Scientific™ magnetic stirrers are made of high quality materials for long lasting durability and corrosion resistance. Stirrers feature a magnetic coupling for consistent stirring. Quick stop function stops drive, minimizing after runs and reducing breakage risk. Integrated controller adjustable power setting decreases power consumption and lowers heat output. Stainless steel housing provides chemical resistance and maintenance ease. Includes a detachable plug and two non-slip silicone plate covers for added spill protection. Features a low profile, lightweight design reducing unit footprint. Available styles include Cimarec™ Biomodul 40B Controller, Cimarec™ Biosystem Direct Stirrer, Cimarec™ Biosystem Stirrer, Cimarec™ i Benchtop 4-Place Distributor, Cimarec™ i Benchtop 8-Place Distributor, Cimarec™ i Compact Stirrer w/ Standard Telemodul Controller, Cimarec™ i Compact Stirrer w/ Telemodul 20 C Controller, Cimarec™ i Maxi Direct Stirrer and more. Stirring positions are 1, 4, 6, 15 and 60. Volts are 100-120V, 100-240V, 115V, 120V and 240V. Hertz are 50/60Hz and 60Hz. Dimensions vary per model.