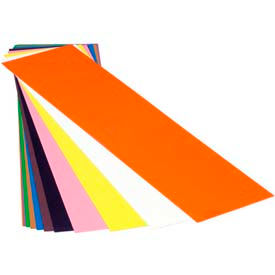 Plastic Color Coded Shim
Plastic Color Coded Shims Are Used For Gaskets, Special Parts And Other Manufacturing Applications.

Plastic Color Coded Shims are made from high quality plastic material for long lasting durability. Color coding eliminates need for micrometer, saves time and reduces error. Easy to cut and resists oil. Non-magnetic and non-conductive to electricity. Corrosion resistant. Colors are Amber, Assorted, Black, Brown, Coral, Clear, Green, Matte, Purple, Red, Silver and White Thicknesses vary Length is 20" Widths are 5", 10" and 20". Precision Brand® Branded Shims contain all necessary information, such as material type, thickness and tracing lot number, printed directly on the shim surface.