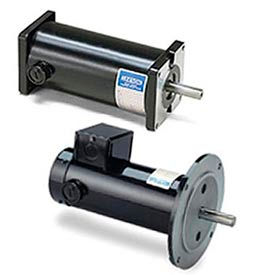 Leeson DC Motors, Sub-FHP
Leeson DC Motors With Sub-Fractional Horsepower Are Perfect For Adjustable Speed Applications Requiring Dynamic Braking And Constant Torque.

Leeson DC Motors With Sub FHP feature continuous-duty operation with full wave unfiltered rectified SCR (thyristor) controls. Linear speed torque characteristics throughout the speed range. High starting torques and reversible rotation from a simple two-lead connection. Leeson DC motors operate with ball bearings to keep friction low. Long-life brushes can be easily replaced without disassembly of motor. Compact, space-saving body design. Motors are available in several RPM speeds, voltages, frame styles and HP levels.