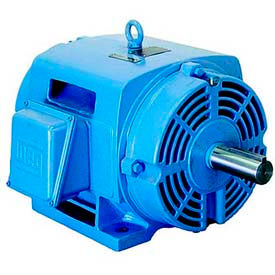 WEG Fire Pump Motors
WEG Fire Pump Motors, 3 Phase, ODP Are Used For Providing Maximum Ventilation And Heat Dissipation In Environments Where Dirt And Moisture Are Minimal.

WEG Fire Pump Motors, 3 Phase, ODP are solidly manufactured for long lasting durability and dependability. Specifically designed to meet or exceed all EPAct requirements for energy efficiency. Certified by the Department of Energy with Certificate of Compliance number CC029A. NEMA design 'B'. 1045 carbon steel shaft. Class F insulation for all frames. NPT threaded terminal box. Open Drip Proof (ODP) enclosure allows for adequate air flow in environments with minimal dirt and moisture. Wide selection of 3 Phase fire pump motors are available with 10, 15, 20, 25, 30, 40, 50, 60, 75, 100, 125, 150 and 200 horsepower, 1800 and 3600 RPMs and 230/460, 460 and 575 voltage designations.