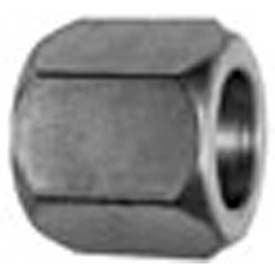 Hydraulic Nut Fittings
Buyers Hydraulic Nut Fittings Are Used For Hydraulic, Instrumentation And Chemical Processing Systems.

Buyers Hydraulic Nut Fittings are made of solid Carbon Steel with Zinc Plating for long lasting durability and dependability. For use with copper, brass, steel, aluminum or other tubing that can be fared. Short nut with sleeve protruding. 3-piece with flare vibration sealing method. Good resistance rating. Interchangeable with all sources. Withstand pressure of up to 10,000 PSI depending on tube size. Meet J.I.C., SAE (J154) Standards. Available in 3/8, 1/2, 5/8, 7/8 and 1 inch tube outside diameter.