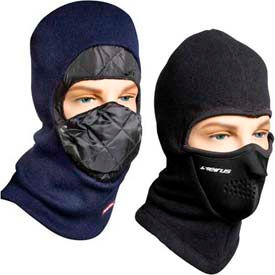 Cold Weather Neck & Face Masks
Cold Weather Neck & Face Masks Provide Temperature Protection For Outdoor Areas, Construction Sites, Environmental Work, and more.

These masks are designed to provide head, ear, nose, and mouth protection against extreme cold conditions. The neck and face masks are made of high quality materials for lasting strength and durability. The form fitting design accommodates caps, hard hats, and other headwear. Available types include Balaclava, Balaclava/Face Mask, Beanie Heated, Face Mask, and more. Colors are Black, Blaze Orange, Blue, Camo, Charcoal Gray, and more. Sizes are One Size, One Size Fits Most, S/M, and L/XL.