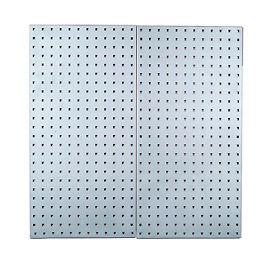 Stainless Steel LocBoard™ LocHook™ Pegboards & Hooks
Stainless Steel LocBoard™ LocHook™ Pegboards and Hooks Provide Storage For Applications Including Residential, Industrial, Commercial, and more.

Stainless steel LocBoard™ LocHook™ pegboards and hooks provide storage support for a variety of tools. Pegboards and hooks allow convenient and space saving wall storage for tools, equipment, and more. Hooks can be rotated or combined with additional hooks for added weight and oddly shaped item support. Select models features 2 and 4-point square interlocking tabs for excess weight stability. Available types include Curved Hook, Double Rod Hook, LocHook Stainless LocHook BinClip, Multi Prong Hook, and Multi Ring Hook, and more. Package quantities are 1, 2, and 3. Dimensions and additional specifications vary per model.