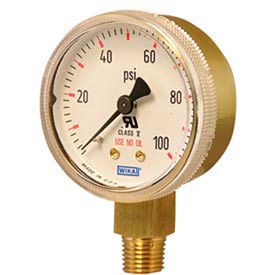 Wika® UL Listed Compressed Gas Gauges
Wika® UL Listed Compressed Gas Gauges Are Used For Use In The Welding Industry.

Compressed gas gauges feature a Bourdon tube with low copper content for pressure ranges 800 psi and below, making it safe for use with acetylene. Lower mount connection. Wetted parts are made from a brass copper alloy. Polished brass case provides long-lasting durability. Removable twist-off polycarbonate window. White aluminum dial. Ambient operating temperature range is -40 to 140°F. Available gauge sizes are 1-1/2, 2 and 2-1/2. Connections are 1/8 NPT or 1/4 NPT. Compatible with US Gauge P-590K and P-600, and Ashcroft 1495A. Cleaned to ASME B40.100 Level IV. UL approved.