YOUR PALLETS, STACKED, RACKED, AND READY TO ROLL
When the clock is ticking, and nerves are on edge to get pallets loaded on time for the next big shipment, the last thing you want to do is search for the right pallet rack or start moving pallets and boxes to get to the one you need.
This is where sturdy, well-maintained, and dependable pallet racks are crucial to establishing operational efficiency in the warehouse. Knowing what products you have, where they're stored, and how to minimize the space it takes to stock them, helps you keep the process moving in a timely manner. Minimizing wasted time lowers costs, while promoting prompt fulfillment of customer requests in a busy work environment.

As you establish or revisit your inventory management plan, be sure it includes the shelves and racks that hold the products and materials you keep in stock. Incorporating smart shelving and racking strategies into your plan keeps your warehouse or distribution center organized and ensures clear pathways for workers and equipment.
Material storage isn't just about giving everything its place, however. Proper organization using pallet racking can drastically improve worker productivity, minimize safety issues, keep floors clear, and speed up order fulfillment. The right storage and shelving systems also maximize available square footage.
This guide reveals three tips to help you select a pallet racking system for your warehouse or distribution facility. The right pallet racking system can use limited space, protect materials, make order fulfillment more efficient, and increase your storage capacity.
TIP 1: Pallet Racking Components 101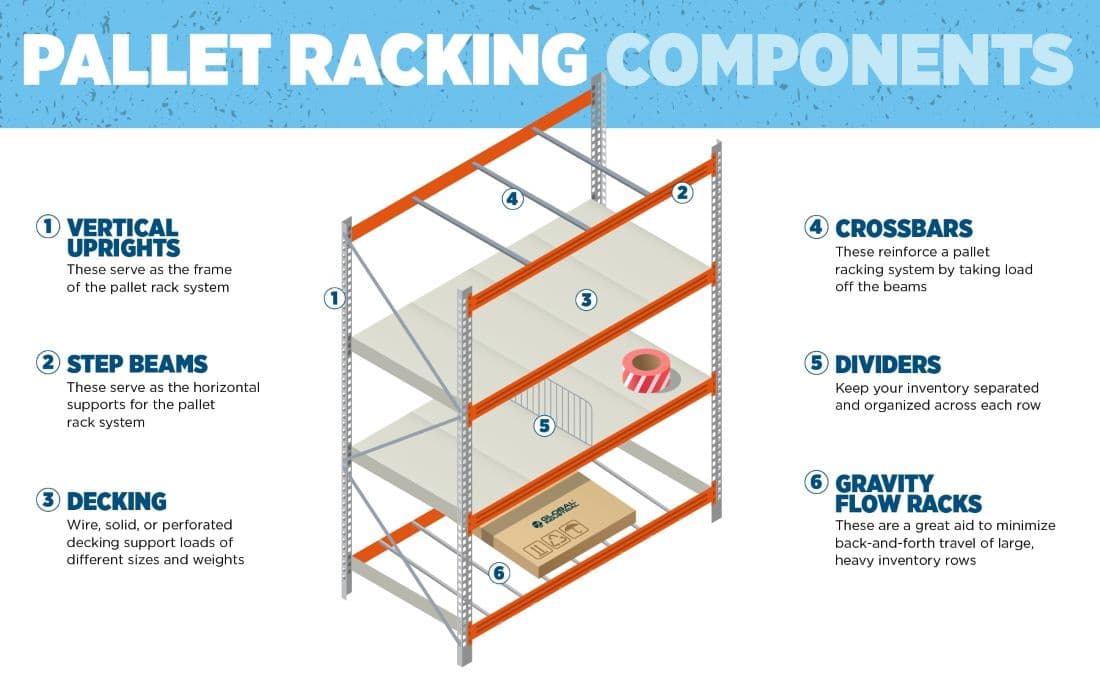 Understanding the components that come together to create a pallet rack—and how they work together to provide stability and storage—can help you configure a system to your needs based on available space and load and weight size.
Vertical Uprights
These are sometimes called "columns" and serve as the frame for a pallet rack. Vertical uprights are available in different depths, heights, and gauges to support the weight of the stored products. Uprights also have holes or slots for mounting beams onto them.
Step Beams
Beams serve as the horizontal supports for the pallet rack system, providing a surface for safe pallet placement. Step Beams are known for having L-shaped steps in their design, with slots along the lower edge of the steps. Step beams support solid-surface materials that help maintain a flat storage area.
Accessories
The best way to turn a pallet racking system into a customized inventory management solution tailored to your specific storage facility is with accessories. There are a variety of accessories you can use to set up a pallet rack to meet your needs.
You can install wire, solid, or perforated decking to support loads of different sizes and weights. It also allows air filtering between the beams, which may be essential based on what type of products you're storing.
Crossbars
Reinforce a pallet racking system by taking some of the load off the beams and distributing the weight evenly across the entire system. Crossbars also create additional support for the bottom of a load.
Dividers
Help keep your inventory separated and organized across each row with dividers. They are especially helpful with smaller products or when similar SKUs are stored side by side.
Gravity Flow Racks
Help inventory loads stack more efficiently on one end of the rack with gravity flow racks. They're also a great aid in reaching inventory and minimizing back-and-forth travel for workers because they cut down on manually moving large, often heavy, inventory rows.

TIP 2: Storage and Shelving Dimension Essentials
When you're starting to plan your pallet racking system strategy, the golden rule is to measure the space first and take an inventory of the materials you'll be storing. That includes the pallets products will sit on as well. This information will help ensure your purchase aligns with your real needs and ensures you don't overspend or end up with a pallet racking system that doesn't fit where you need it to.

There are three standard pallet sizes.
Knowing which pallet sizes you work with most often will help you plan the right pallet racking system. To make the most of your space, the beam lengths of your pallet racking system should be a multiple of the pallet dimension you use most frequently. Beam capacity is always listed as capacity per beam pair. This number is based on the static weight of evenly distributed loads.*
Regarding uprights, the height you choose will depend on your ceiling height, the product you plan to store, and the recommended capacity limits for the manufacturer.
The weight capacity of an upright is determined by the beam spacing (the height between levels). Find this number by measuring the distance between the storage levels. The more space between levels, the lower the capacity of the pallet rack's upright.

TIP 3: Ensuring Safety and Security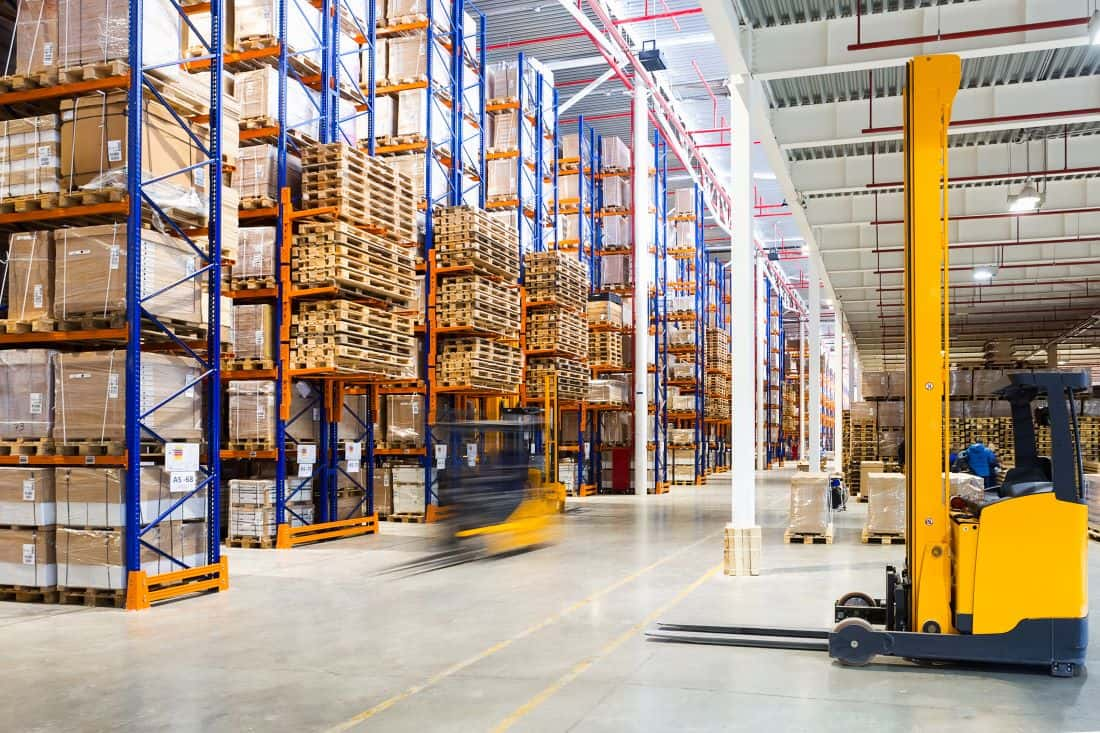 Proper safety precautions are vital to ensuring your pallet racking system brings efficiency and value, not safety concerns.


Following these steps will help keep your workers safe and your materials secure.
When storing products on shelves, there's always the risk of them falling. Safety netting and mesh guards can prevent this by providing a fall-protection barrier that offers visibility and ventilation. These products can also make it more difficult for product theft to occur.
As your needs change over time, you'll likely need to transport the components of your pallet racking system as you reconfigure. A pallet rack mover can make moving empty pallet racks possible without disassembling them.
When pallet racking systems are outdoors, they should be placed on the pavement and secured with poured concrete pillars to properly support racking loads.
Have Pallet Racking Questions? Global Industrial Has Answers.
If you're ready to incorporate pallet racking into your inventory management plan—or expand on what you already have—our product experts are here to help. Global Industrial can review any facility or workplace to help you determine how to implement the right pallet racking strategy for your business. Connect with one of our Global Industrial sales representatives at 888.978.7759 or contact us here for help finding the right configuration for your needs.
*Pallet Rack Disclaimer: The capacity LBS limitations apply to static (non-seismic) conditions only. If seismic conditions apply, verification of capacities must be confirmed with a seismic engineer. Global Industrial is not responsible for engineering, installation and/or application of this material. In addition, Global Industrial is not responsible for securing any necessary permits. It is the full responsibility of the customer to check the contents and quantities. The capacity LBS limitations are provided for reference only and based on an evenly distributed load.
The information contained in this article is for informational, educational, and promotional purposes only and is based on information available as of the initial date of publication. It is the reader's responsibility to ensure compliance with all applicable laws, rules, codes and regulations. If there is any question or doubt in regard to any element contained in this article, please consult a licensed professional. Under no circumstances will Global Industrial be liable for any loss or damage caused by your reliance on this article.