Global Industrial Strikes A Chord in 2019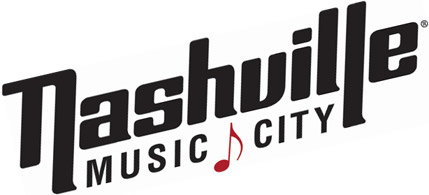 Global's National Trade Show will be Thursday, August 8, 2019 at the Gaylord Opryland Resort & Convention Center, Nashville, TN.
Global Goes One Better for their 2019 Trade Show Event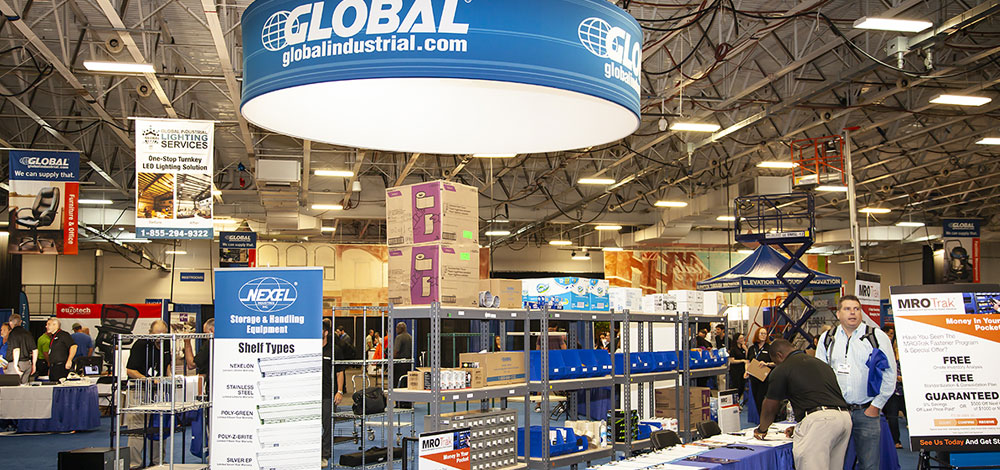 OUR SHOW BY THE NUMBERS
1000 + ATTENDEES

175 + Vendors

2 HALL OF FAMERS
100% SATISFACTION
Last year's trade show event at the Meadowlands Exposition Center in Secaucus, NJ was one of the largest to date for Global Industrial. As usual, Global has upped the ante for its annual 2019 Trade Show. Held this August 8th in Nashville, Tennessee at the Gaylord Opryland Resort and Convention Center, the 150,000-plus square foot exhibition hall is just enough to house the more than 150 vendors and the thousands of customers attending.
Global Industrial is kicking it all off Wednesday night with hors d'oeuvres and cocktails, along with Nashville favorite Tyson Hanes. Tyson's upbeat style and wildly entertaining performances have been known to get the crowd toe-tapping and two-stepping before they know it! Thursday, the day of the trade show, starts strong with a good solid Nashville-styled breakfast. Lunch will be served later in the day and the entertainment line-up is epic. Aly Cutter, Nashville's new songstress, lends her edgy vocals in a mix of contemporary country and sultry blues.
Next at bat is Adam Doleac, the rising country star who traded in a promising baseball career for his music. He's played with country legends Kenny Chesney, Darius Rucker, and Rascal Flatts, and is sure to knock it out of the park. Last and certainly not least is the Brassfield Group. This trio of two brothers and one wife bring three part harmony to a new level for a truly stellar vocal blend. With raffles and giveaways throughout the day, this one-day-only trade show gives customers one-on-one time with vendors to talk about what they need.
Global Industrial, a Systemax company, is an internationally recognized industrial supply company that has steadily grown to offer over a million products. Are they really experts on more than a million products? They are. Their vendors are. And customer-centric policies like auto reorder, no hassle online returns, and one-call resolution are making it easier than ever to do business with Global.
Don't miss this one-day-only event!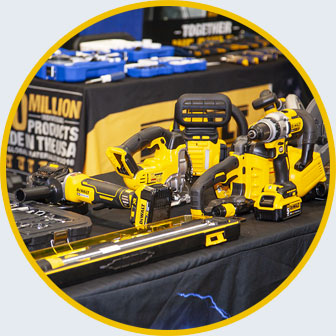 Power Tools were the name of the game for DeWalt - the largest manufacturer of tools and accessories in the world. Demonstrating their "next-level power" FLEXVOLT cordless cut off machine for cutting pavers and concrete, the interchangeable battery (20V - 60V) can bridge the power as needed for everything from DIY projects to professional job site work.
Elkay National Accounts Manager Kenny Shwab, showcased its next-gen bottle filling station. These new systems have a digital counter to show how many bottles have been saved, and the enhanced diagnostic connections and remote control will address any alerts immediately. "It was well worth it to be able to showcase our newest product," said Shwab. Plus their booth was packed with thirsty people!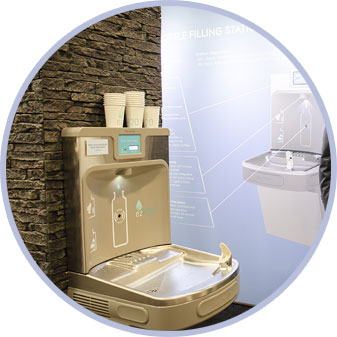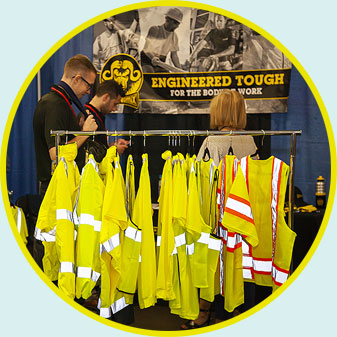 OccuNomix was definitely visible - a fitting description for one of the leading manufacturers of high visibility safety apparel. Displaying their hi-viz jackets, vests, and t-shirts, OccuNomix sales reps Kieran Keenaghan (left) and Charlie Gerstman (right) show a customer how they live up to their promise. Their booth was a big hit with attendees.
Ballymore did not disappoint with their ladders, lifts, platforms, and custom options. Ballymore is one of Global's most successful vendors. "This was a huge trade show," said Ballymore Vice President Phil Damm, "We were able to meet with hundreds of customers and potential customers, showcase our newest products, and give live demos, and provided solutions to specific customer issues."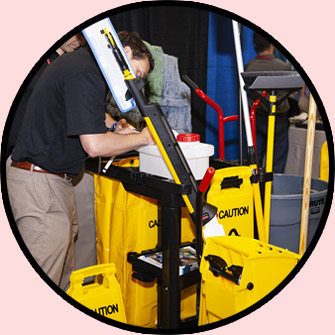 Rubbermaid Key Account Manager Taylor Dalton showed us all how it's done - cleaning that is - with their ultra-durable WaveBrake mop bucket and Pulse mop cleaning gear. We're guessing their booth was the cleanest one at the show!