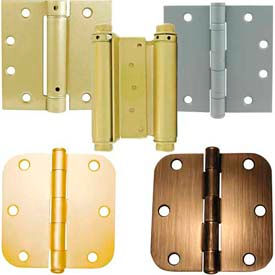 Ultra Hardware Hinges
Ultra Hardware Hinges Provide Mobility To Doors In Residential and Commercial Environments.

Ultra hardware hinges are made of stainless steel or steel for long lasting durability. Plain, Single or Double Spring Action Hingeswith Square or Round Corners provide easy open and close action for residential and commercial doors. Available finishes are Antique Satin Nickel, Brass, Bright Brass, Bright Chrome, Bronze, Brushed Brass, Brushed Chrome, Chrome, Dull Chrome, Flat Black, Galvanized, Gray Prime, and more. Available pin types are NPR SS, NPR and RP. Dimensions vary by model.