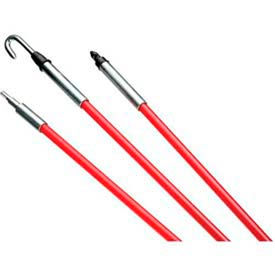 Conduit Fishing Tools
Conduit Fishing Tools Are Designed For A Wide Variety Of Applications.

Conduit Fishing Tools are available in two styles: Fish Stick and Fish Tape. The Fish Ease™ Fish Sticks feature 3 durable, interlocking, fiberglass rods that extend up to 12 (4 sections). A 1/4" diameter ensures rigidity when extended and 2 different threading tips allow for a variety of applications. The Cable Snake™ Steel Fish Tape is perfect for short runs installing electrical boxes, outlets, lighting fixtures, doorbells and security systems. The compact design houses 25 of tape and fits in a tool box or on a tool belt, and the flat wire steel tape fishes down walls, under carpets and over ceilings. A formed handle provides comfort during use and a compact tape rewind knob allows for quick wind-up. The wedge-shape tip prevents hang-up and the low-memory tape does not curl during extension, making it perfect for non-conduit situations.