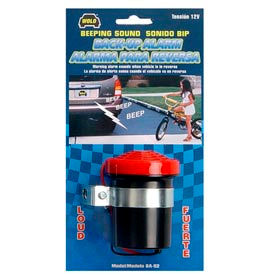 Vehicle Back-Up Alarms
Back-Up Alarms Produce A Sound When Vehicles Drive In Reverse.

Back-up alarms alert pedestrians and other vehicles when a van, mini-van or SUV is driving in reverse. Choose from different styles of back-up alarms. Back-Up Alarms are small in size for easy installation in any 12-volt vehicle. Heavy Duty Back-Up Alarms are made for heavy-duty use in any vehicle from 12 to 48 Volts. Intelligent Back-Up Alarm measures the ambient noise level and instantly self-adjusts to produce a beeping sound 3 decibels louder than the surrounding noise. Designed for heavy-duty commercial applications. Talking Back-Up Alarm features an attention getting voice warning available in English or Spanish (Sold separately). Message is continuous until the vehicle is shifted out of reverse. Back-up alarms meet or exceed OSHA regulations.