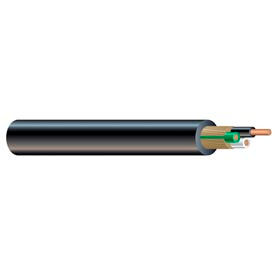 Type SO & SJ Flexible Service Cords
SO and SJ Flexible Rubber Service Cords Are Used For Flex Applications In Harsh Environments Where The Highest Degree Of Oil Resistance And Extended Service Life Are Essential.

Great for wiring of industrial machinery, motors, portable tools and equipment and temporary electrical power and lighting installations for construction sites. Operating temperature range of -40° to 90°C in dry locations; up to 60°C in wet locations. Made using a flexible, heat, moisture and oil resistant CPE jacket. Heat, moisture and oil resistant EPDM rubber insulation. Tissue-paper separator promotes easier removal of jacket. Type SOOW rated to 600 volts, type SJOOW rated to 300 volts. Service cords offer good tensile strength, elongation and aging characteristics. Resistant to oil, solvents, water, flame, ozone and abrasion. UL listed. CSA listed.