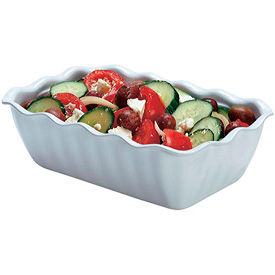 Deli Crocks & Platter
Deli Crocks And Platters Are Used Foodservice Dishes For Supermarkets, Catering, Restaurants, Buffets, And Other Food Displays.

Deli Crocks And Platters are made of acrylic, SAN and polypropylene for long lasting durability and strength. Crocks are designed to prep, store and serve all in one container for user convenience. SAN crocks are impact, stain and chip resistant.Polycarbonate crocks are impact resistant and safe for use in temperatures up to 180°F. Octagonal clear snap-on lid also available. BPA free construction. Available styles are Crock, Deli Crock, Deli Platter, Deli Server, Low Profile Crock, and Octagonal Crock. Color finishes are Black, Clear, Red and White. Dimensions and quantities vary per model.