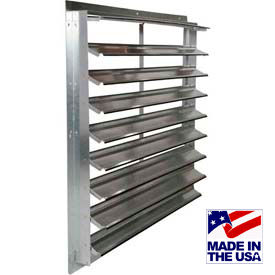 Rear Flange Exhaust Shutters
Rear Flange Exhaust Shutters are used for Venting Direct Drive or Belt Driven Exhaust Fans.

Rear Flange Exhaust Shutters allow horizontal airflow in one direction and prevent reverse airflow, while protecting from environmental elements when the flow is stopped. Shutters are made with either Aluminum or Galvanized Steel Frames with aluminum blades. Frame comes with integrated weather stripping for strength and weather protection. Blades are made with flanged ends for added protection against the elements. Counterbalanced blades allow shutters to be mounted vertically to 45 degrees. 2500 FPM maximum velocity. 180°F maximum temperature. Available in a variety of sizes. Made in the USA.