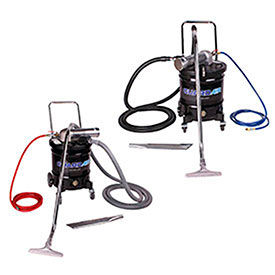 Guardair Pneumatic Vacuums
Guardair Pneumatic Vacuums Are Used For Heavy Duty Industrial Cleaning Applications.

Pneumatic Vacuums provide lower consumption of compressed air rather than electricity to provide powerful suction capability. Used for use in metalworking, chemical processing, mining, pharmaceutical, transportation, HAZMAT and more. Units handle virtually most wet or dry clean-up tasks. With gallon capacities from 5 gallons to 55 gallons. Available types include Generating Head, Generating Head and Accessories, Powder Coating Unit, Static Conductive Vacuum Unit and Vacuum Unit. Full Kit available as well. Air consumption and inlet size vary.