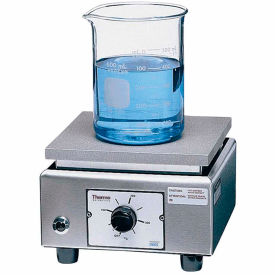 Thermo Scientific™ Hotplates
Thermo Scientific™ Hotplates Are Used For Heating Applications Including Medical, Laboratory And More.

Thermo Scientific™ hotplates are made of high quality materials for long lasting durability and corrosion resistance. Hotplates provide temperature stability, acid base digestion, sample drying, evaporations and more. Embedded heating elements transfer heat evenly and uniformly. Topside drip edge protects internal components from spillage. Cycle light indicates active power being supplied to heating element. Integral ring stand holder accommodates support rods. Available styles include 2200 Series Aluminum Top Hotplate, Aluminum Top Hotplate, Cimarec™ Basic Hotplate, Cimarec™ Digital Hotplate, Cimarec™ + Digital Hotplate, Clamp and Clamp Holder, Explosion-Proof SAFE-T HP6 Hotplate, Hastelloy PT1000 External Probe and more. Plate materials are Aluminum, Ceramic and Porcelain-Coated Stainless Steel. Colors are Aluminum/Yellow, Stainless Steel, Transparent, White, White/Black, White/Blue and White/Yellow. Volts are 100-120V, 120V, 220/240V and 240V. Hertz are 50/60Hz and 60Hz. Dimensions vary per model.