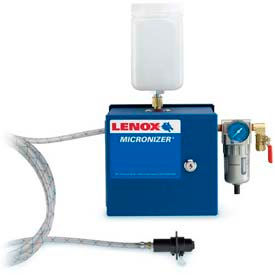 Micronizer® & Micronizer® Jr. Band Saw Fluid Applicators
Lenox Band Saw Fluid Applicators Insure That The Correct Amount Of Fluid Is Applied To Tool.

Lenox Band Saw Fluid Applicators are made for long lasting durability and dependability. Micronizer® applicator is designed to deliver a small amount of lubricant to aid in tooth penetration and chip formation, reducing heat and improving life of the tool. Precise fluid pump and air pressure controls ensures that the correct amount is applied. Variety of nozzles available. Recommended for larger band saw machines using 1-1/4 inch and wider blades. Saw nozzle with 32 ounce reservoir capacity. Micronizer® Jr. applicators are portable in design for use on many applications. Strong mounting magnets hold unit in place, but allow it to be moved to different machines. Clean, economical method of providing lubrication. Available with Flex or Copper nozzle and 7 or 37 ounce reservoir capacities.