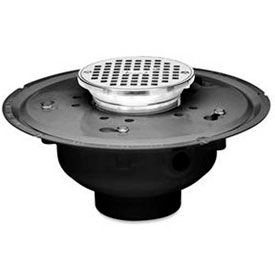 Adjustable Commercial Drains with Square and Round Tops
Adjustable Commercial Drains With Square And Round Tops Feature Completely Adjustable Barrel Assemblies To Meet Finished Floor Heights.

Adjustable Commercial Drains provide general purpose floor drains for use in restaurants, restrooms and other environments where traffic is expected. Durable ABS or PVC construction provides long lasting dependability for plumbing applications. Available styles include Drain w/5" Grate with Round, Square, or No Ring, and Drain w/6" Grate with Round or No Ring. Color finishes are Brass, Chrome, Nickel, and Stainless Steel. Sizes vary per model.