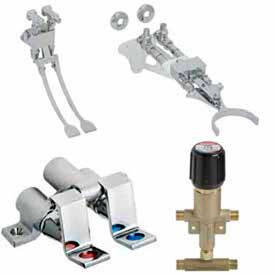 Floor Mounted Foot Valves
Foot Valves And Mixing Valves Are Used Are Used Accessories For Faucet Systems.

Elkay Foot Valves And Mixing Valves are solidly made for long lasting durability and dependability. Choose Floor or Wall mounted Double Foot Valve Units for hands-free functionality. made of solid brass with polished chrome finish. Anti-Scald Universal Thermostatic Mixing Valve has a forged bronze body and contains a four port adapter to allow use for both touchless and two handle sink operations. Comes with internal check valves on inlets and mixed temperature range of 80-120°F.