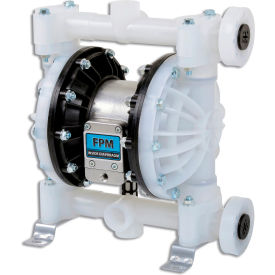 Double Diaphragm Transfer Pumps
Fuelworks® B071P9NKY3 Double Diaphragm Transfer Pump 1/2" Nitrile/NBR/Buna-N - 12GPM / 45LPM

SPECIFICATIONS - This Pneumatic Diaphragm Pump has a Flow Rate of 12GPM/45LPM with Self-Priming cababilities. Max Pressure: 116PSI/8BAR with 1/2" Inlet/Outlets, an Air Inlet of 1/4" NPT, a Max diameter Solid of 1/8" & complete with a pair of PTFE Ball Valves.

EFFICIENT DESIGN & CAPABILITIES - Our Diaphragm Pumps are compact, light weight & built of a Aluminium body for rigorous applications & the Membrane/O-Rings/Seals/Elastomers are of Nitrile/NBR/Buna-N material. With a Max Suction Height of: 10ft (3m) & Max Head of: 164ft (50m) for professional applications.

SAFETY & PROPER USE - The Fuelworks Diaphragm Transfer Pump is to be mounted upright during operation for user safety. This pump is designed specifically for Fuel Transfer of [Non-Flammable Liquids like: Diesel, Grease, Kerosene & Oil] (DO NOT USE FOR GASOLINE, Bio-Diesel, Windscreen & Similar Chemicals)

The Exceptional FUELWORKS Demand - Partner with us & join millions worldwide who empower their everyday lives, by using our Cutting Edge Equipment & Supreme Advanced Technology, to Conquer any task or obstacle. Arise & Gain Dominance over your 'Sphere of Influence' by starting here.

COMMITMENT - GreatCircleUSA is the only authorized seller of Fuelworks products who is committed to providing customers with a stress-free shopping experience. Buy with confidence, we are ALWAYS here to help.