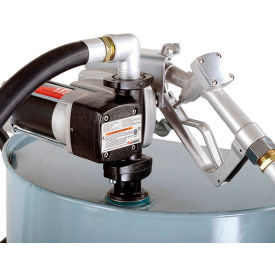 Fuel Transfer Pump Kits
Fuelworks® B01LX4S573 120V 20GPM Fuel Transfer Pump Kit 14' Hose, Black

This Fuelworks Transfer Pump Kit has a AC 120V 200W 4.5A motor with a flow rate of 20GPM / 76LPM & including: Extensible Suction Tube, Aluminum Manual Nozzle w/ lockable Holder.

This Transfer Pump is designed as a Class 1 Division 1 Group D T4 Explosion Proof Pump, suitable for flammable liquids like: Gasoline, Diesel Kerosene & Mineral Spirits.

Fuelworks is proud to be a premier fuel equipment manufacturer for America. We are confident you will find our products to be of superior quality.

We have a dedicated customer support team standing behind our Fuelworks Transfer Pumps, so you can use your pump stress free with ease knowing that we are always here for you.