DIVIDE & CONQUER: THE ULTIMATE PARTITION SYSTEM BUYING GUIDE.
The modern workplace is rapidly evolving due to a perfect storm of recent events. The pandemic of 2020 was definitely the catalyst for this change, with most of the workforce being forced to stay home for several months.
But even after lockdown restrictions were eased, there was no going back to what was once considered "normal." Remote and hybrid working have become very popular, very quickly, and that's led to office downsizing and the need for more flexible workspaces. That's why modular partitions are a facility manager's best solution to the problem.
The case for modular partition systems.
Let's start with flexibility. Partition systems are not permanent fixtures (many actually come with wheels) and so they can be used to adapt to ever-changing workspaces and environments. Many businesses these days have to be able to pivot quickly to stay competitive, particularly in the commercial, industrial, healthcare, hospitality, education, and public sector industries.
With modular partitions you can literally transform any workspace overnight, or indeed in just a few hours depending on the scope of the change. Designed to be lightweight without being flimsy, these partitions can even create closed office spaces and meeting rooms in an open plan environment. It's worth noting that while some people enjoy an open plan environment, others prefer the privacy of office spaces. Partitions give you the opportunity to provide the best of both worlds to employees.
And if you're worried about the look and feel of partitions, don't be. Modern systems come in a range of stylish but neutral designs that suit a variety of environments.
Partition systems are also storage-friendly, easily packed flat when you don't need them but ready to be assembled quickly to transform any space you desire, from a corporate office or school to a warehouse floor or car showroom. And of course, they're much more affordable than permanent partitions.
So, knowing just what kind of a phenomenal return on investment they are, let's take a look at the many options you have available to you.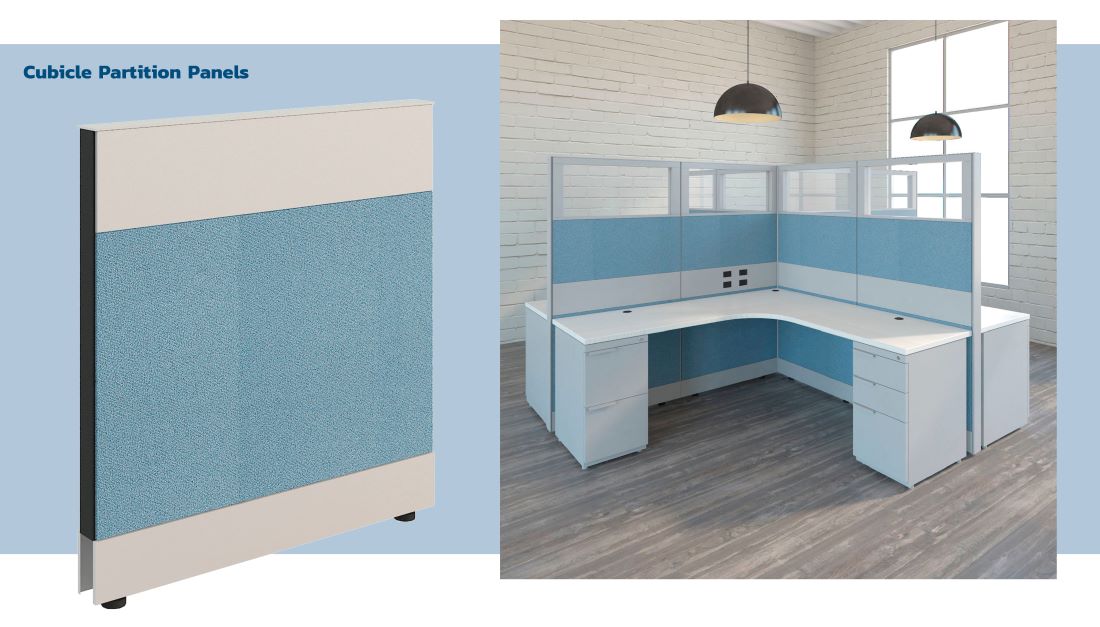 Cubicle Partition Panels
Probably the most common method of breaking up floor spaces into smaller, more personal workspaces, cubicle partitions come in a variety of colors, sizes, and styles. Some come with power, others do not. Work with a partition expert to find the perfect combination you'll require (our experts are always ready to help).
Depending on the kind of environment you're looking to create, you can go with layouts that maximize privacy or give a more open approach. Panels you'll want consider include:
If you want something more turnkey, you have the option for preconfigured cubicle kits, workstations, and wellness stations. As the term suggested, these models are already designed and ready to go. Just choose a style, color, and the dimensions you need.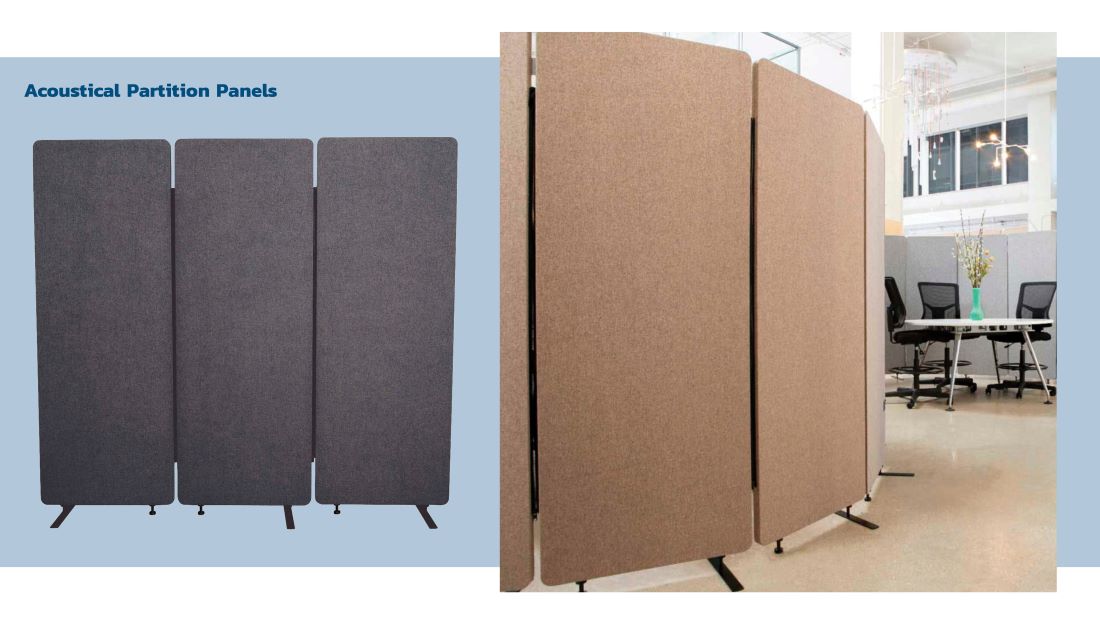 Acoustical Partition Panels
If sound is an issue, investing in acoustical partitions is the way to go. These can be particularly useful when privacy is paramount (think of consultations with a patient in a medical environment) or when you need to block out sound to make calls and hold meetings. A busy warehouse is a prime example of that.
You have two choices here. Standard acoustical panels are more affordable but don't have the adaptability of folding acoustical panels, so look closely at the areas where they'll be used and plan accordingly. For schools, the folding panels are a superb way to provide quiet areas for reading, and can quickly be folded away when not in use.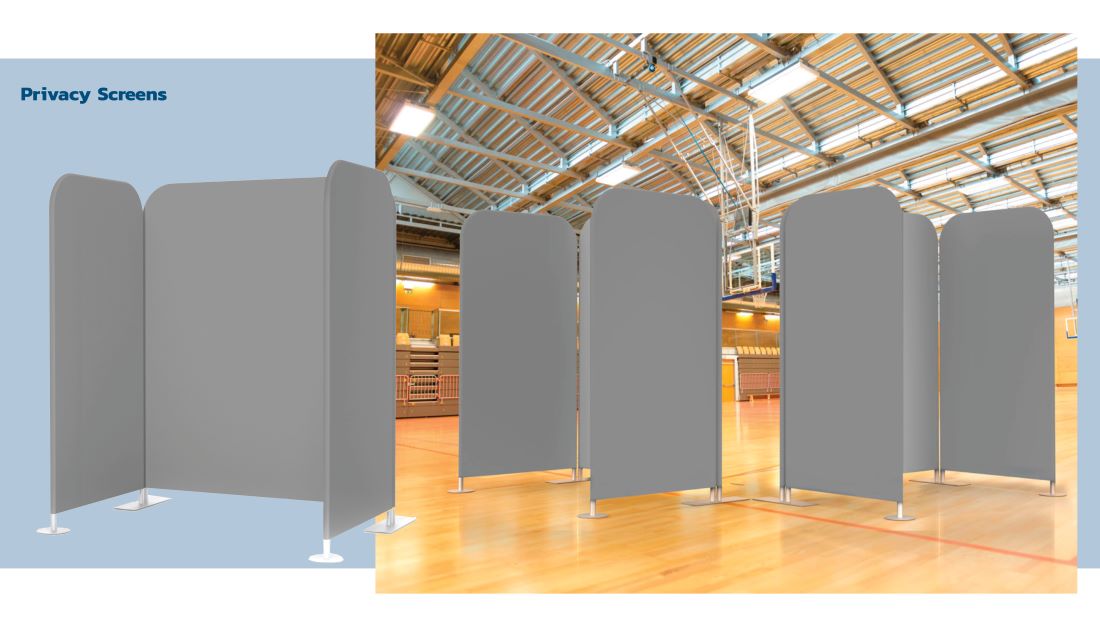 Privacy Screens
You'll recognize these from any hospital or doctor's visit you've ever taken. Usually on wheels, privacy screens have folding panels and can be quickly moved from one area to another to provide instant privacy (although they do not provide the soundproofing of acoustical panels).
You also have the option of stationary screens, as well as vaccine & wellness booths, and even replacement screen panels for budget-friendly repairs and updates to existing screen frames.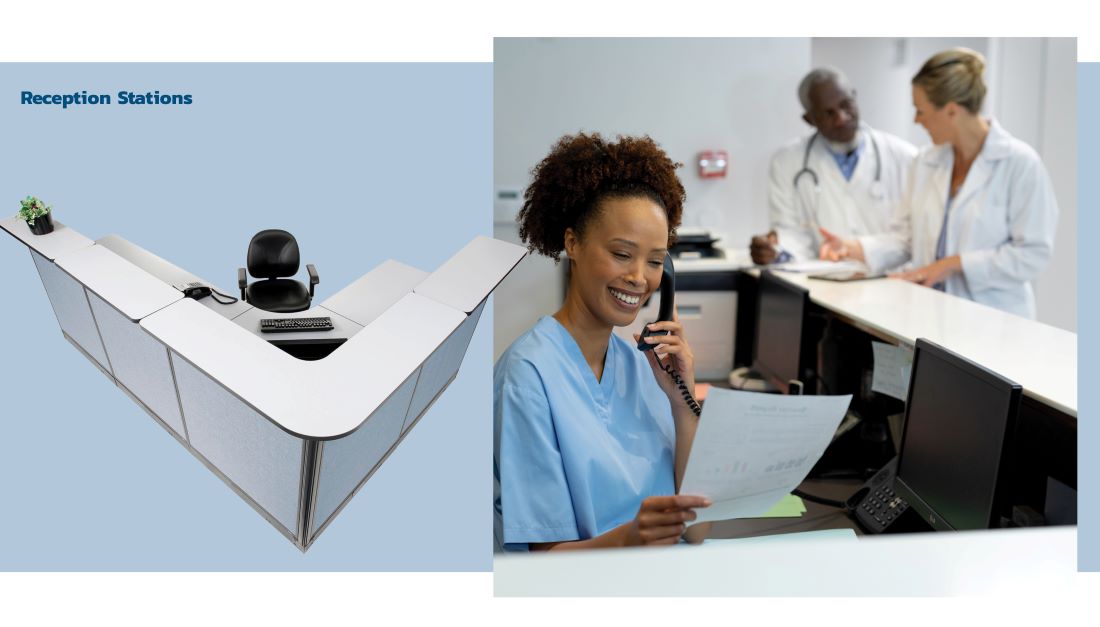 Reception Stations
It's easy to think that a reception station is a permanent fixture but that's actually not always the case. Coming in a variety of sizes and styles, with both raceway base and powered options, you can install a great reception station quickly and easily. And as it's designed to be moved at the drop of a hat, you can change the layout of your floorspace without having to worry about downtime and cost.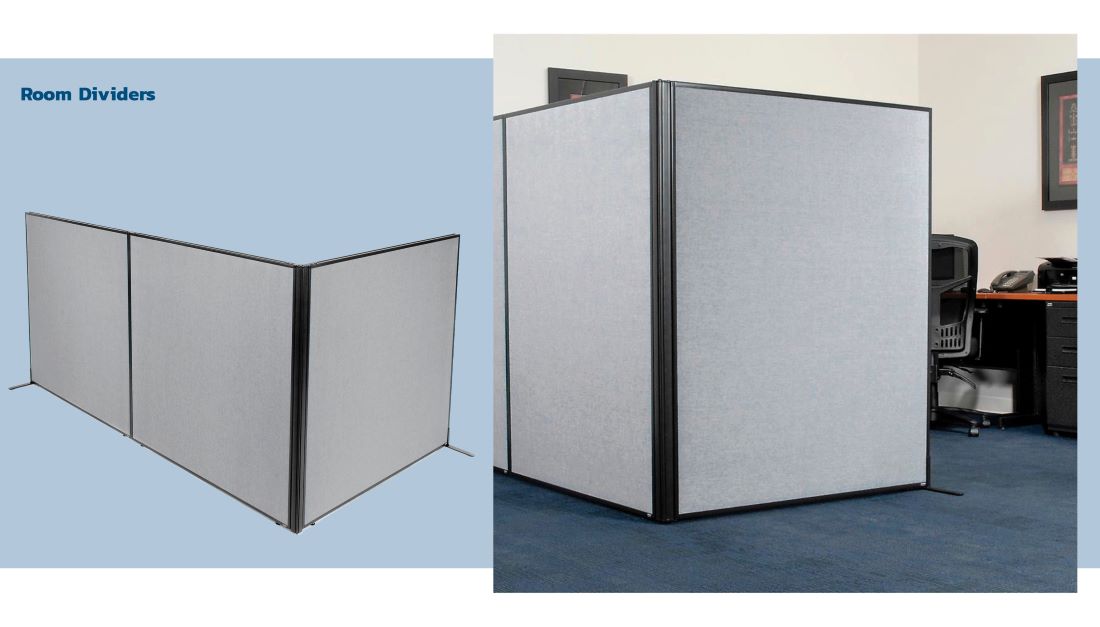 Room Dividers
There is definitely more than one way to divide a room, and Global Industrial has the options you need to find the perfect fit. These include:
The ballistic room dividers are increasingly in demand, particularly in schools and banks, and are well worth the investment to give you a little more peace of mind that students, teachers and employees have an extra level of protection.
Room Divider Doors
To give you even more versatility in your office layouts, room divider doors can be added to your room dividers. These are usually mounted to either end of the room divider and give people easy access to areas that have been partitioned. You can choose from either fabric or vinyl finishes, and they come in a range of sizes and styles.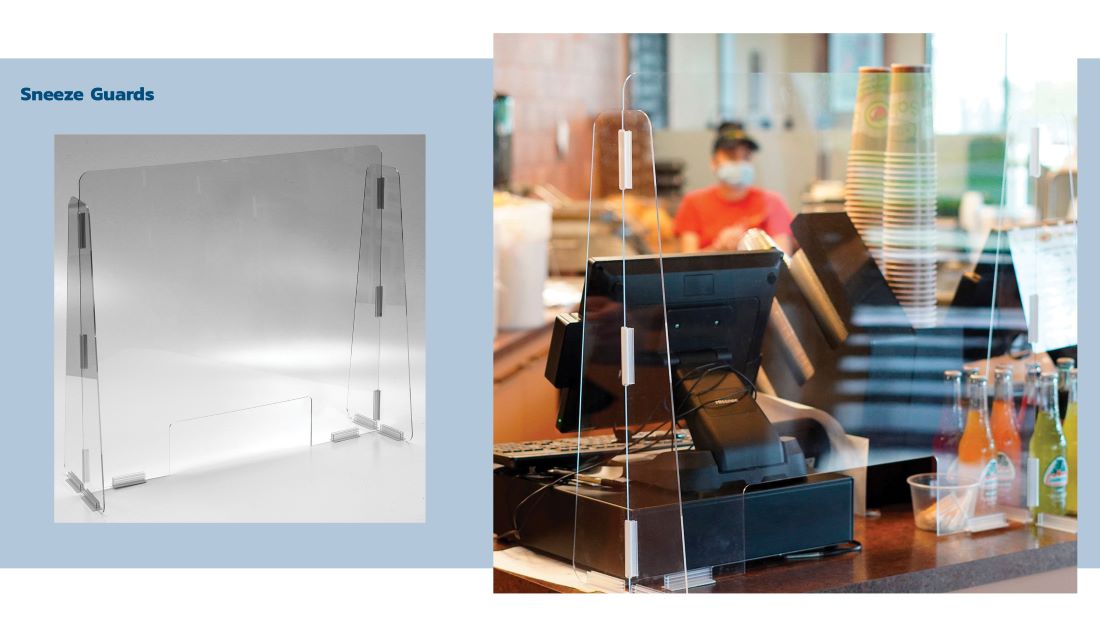 Sneeze Guards
During (and after) the pandemic, many people felt uncomfortable in environments that didn't have some kind of clear shield to help prevent the spread of germs and viruses. Coming in a variety of sizes and styles, your options include:
While this guide covers most of the available ways you can divide any workspace, our experts at Global Industrial are always ready to help you decide just what you need to create the perfect environment. Mixing and matching partition styles can give you a bespoke solution that is as flexible as it is affordable, so just get in touch and we'll be happy to get you exactly what you need.
The information contained in this article is for informational, educational, and promotional purposes only and is based on information available as of the initial date of publication. It is the reader's responsibility to ensure compliance with all applicable laws, rules, codes and regulations. If there is any question or doubt in regard to any element contained in this article, please consult a licensed professional. Under no circumstances will Global Industrial® be liable for any loss or damage caused by your reliance on this article.