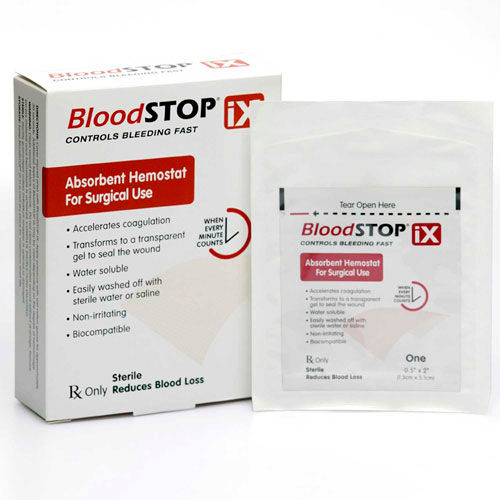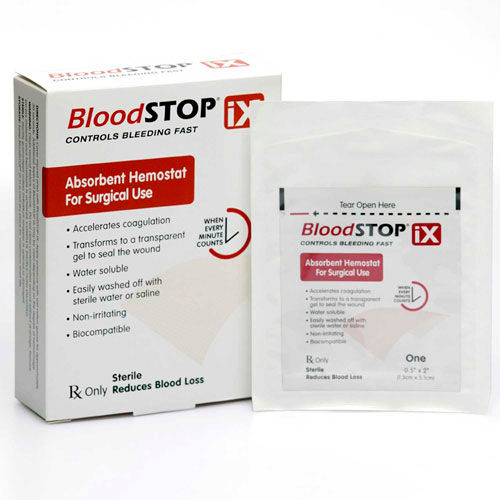 Model #: WBB2020321
MPN #: BS-iX15
BloodSTOP® BS-iX15 IX Advanced Hemostatic Matrix 2" x 4", 12/per box
BloodSTOP® iX is a new generation hemostat matrix made from water soluble, oxidized - etherified regenerated cellulose. It is used by medical professionals and hospitals. It is a fully biocompatible, non-irritating, woven matrix of fibers that contain natural plant components.It adheres to any wound and, upon contact with blood, initiates blood coagulation, stops bleeding fast, and forms a protective layer that creates an optimal environment for wound healing.Its water solubility allows for easy removal through rinsing without disruption of the clotted wound surface. BloodSTOP® iX exerts its pro-coagulant activity by activating the intrinsic coagulation pathway, accelerating clot formation.It is used in internal surgery in countries that recognize the European Union Class III CE certification. Its EU class IIb CE certification for surface wound hemostasis also includes the treatment of patients on anticoagulant medications. In the US, BloodSTOP® iX has currently FDA 510K market clearance for surface wound hemostasis.


AUTO-REORDER from GlobalIndustrial.com ensures you don't run out of essentials to make your life easier.
Eliminate the need for reminders and repetitive orders.
Customize your order frequency, delivery schedule, and quantity with just a few clicks.
Automatic email notifications keep you in the loop before every order.
It's completely FREE and you can cancel anytime from your profile.