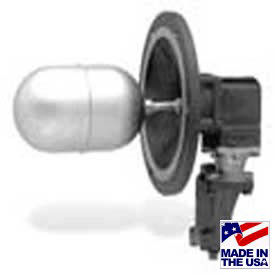 McDonnell & Miller Water Feeders
McDonnell & Miller Water Feeders Are Used For Applications Where Water Is Added To Boiler Steam Separators, Receivers, Tanks And Other Vessels.

McDonnell & Miller Water Feeders are solidly manufactured for long lasting durability and dependability. Electric Water Feeders are for low pressure steam boilers with cold water feed. Eliminates necessity to manually add water to the boiler. Can be used with mechanical or electronic low water cut-off controls. Quick-change replaceable cartridge valve and strainer. Manual feed button. 150 psi. 24V and 120V models. UNI-Match Electric Water Feeders have field-adjustable dwell-feed cycles, multi-Color LED status indicator, manual feed button and hard-stop limit to minimize chances of flooding the boiler. Compatible with all electronic and mechanical Low Water Cut-Offs. 150 psi24V and 120V models. Make-Up Water Feeders for boiler receiver tanks feature direct mounting that eliminates need for equalizing connections. Proportional feed action. 75, 100 and 150 psi.