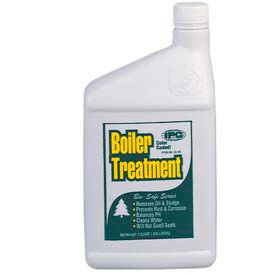 Boiler System Treatments & Sealants
Boiler System Treatments And Sealants Efficiently Clean And Maintain Residential, Commercial And Industrial Boilers.

Boiler System Treatments And Sealants are essential to maintaining the continuing integrity and long lasting durability of HVAC and boiler systems. Air Bubble Eliminator removes air from hydronic systems and stops banging sound in steam lines. Boiler System Cleaners stop priming, surging and foaming in boilers and heating systems with corrosion preventative treatment that helps maximize efficiency. Coil Cleaners clean external coils without needing to remove them from boiler. Leak Sealants seal and prevent leaks in hydronic systems with non-hazardous and safe formula for use on all system components. Seal Cleaner and Lubricant treats system to prevent formation of blockages and leaks using a non-petroleum formula for hydronic systems. Anti-Freeze Recharge recharges the corrosion inhibitor level of propylene and ethylene glycol based anti-freeze, chiller, and heat transfer fluids to increase the life of fluid by eliminating acidic water levels. Water Cleaner & PH Neutralizer cleans boiler water, corrects pH balance and prevents rust and scale. Package quantities and capacities vary per model.