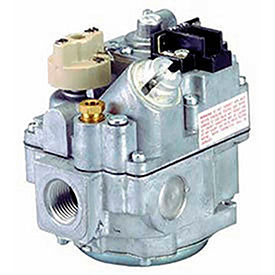 Combination Gas Valves
"Combination Gas Valves Offer Reliability, Performance, Flexibility, And Easy Installation In One Compact Control.

Combination Gas Valves are solidly manufactured for long lasting durability and dependability. Various models feature manual valve (gas cock), automatic pilot safety valve, inlet/outlet screens, pilot outlet, pilot gas filter and pilot adjustment key. Pilot safety valve provides gas shutoff in event of pilot outage. 24 volt units available with 1/2, 3/4 and 1 inch inlet and outlet sizes. 3.5° and Uni-Kit regulators. Natural Gas or LP gas convertible.

"