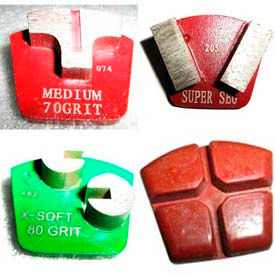 WerkMaster™ Plug 'N Go™ Tooling
WerkMaster™ Plug 'N Go™ Tooling Is Designed For Prepping, Cutting, Grinding And Polishing Various Floors And Surfaces.
WerkMaster™ Plug 'N Go™ Tooling is made of steel or resin for superior performance. Features a
Plug 'N Go™ System to improve production and efficiency while reducing labor costs for enhanced versatility
. Available in a variety of grits. Dimensions and package quantities vary per model.
Metal Bond Abrasives
are designed for grinding and polishing terrazzo and stone lippage. Medium bond for marble and travertine. Extra soft bond for granite and terrazzo.
Super Segmented
are designed for general purpose coating removal and profiling, concrete grinding and polishing. Perfect for uneven floors where leveling is required.
Vacuum Brazed
are used for light grinding on concrete and terrazzo. Wet or dry.
Specialty Surface Preps
are used for coating and stock removal. Good for opening up cured and sealed floors.
Standard 1 And 2 Segmented
are designed to flatten and profile power toweled floors. Used for grinding, polishing and minor prep.
Shark Standard And Shark HD Tools
are excellent for preparation, leveling or polishing.
TCD Standard 1 Segmented
are used for glues, mastics, epoxy, paints, coating removal and floor preparation.
PCD W/ TCD Shark Tools
are used for aggressive removal of adhesive, glue, mastic and epoxies. Good for leveling and profiling micro toppings and high build coatings. Equipped with 1 PCD and 1 TCD.
Hybrid Resins
are made of copper and resin. Excellent on terrazzo and may be used on concrete. For removing tool marks from metal bond tools. Very good for cream polish.
Standard Resins
are used for wavy floors. Good for cutting and polishing on medium floors and toppings. Produces a high shine with low resin transfer.
last long life and produce a high shine. Wet or dry.