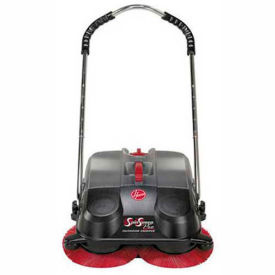 Hoover® SpinSweep Pro Outdoor Sweeper
Outdoor Sweeper Collects All Types Of Debris Including Grass Clippings, Rocks, Mulch, Cans, Sand, Gravel, Metal Filings, Leaves, Tree Debris, Litter And Much More!

Used for home and business applications including driveways, walkways, storefronts, patios, garages, poolside and more. Motorless design requires no cord, batteries, or fuel. Hoover sweeper is environmentally friendly, operating with no air pollution, noise pollution or energy consumption. Ergonomic handle adjusts quickly to desired height. Features 18"W cleaning path with wide flair brushes. Features brush height adjustment and wall guides. Highly maneuverable swivel casters provide a zero turn radius and smooth operation. Includes large 6.6 gallon translucent collection bin that can be easily emptied with one hand. Easy assembly requires no tools.