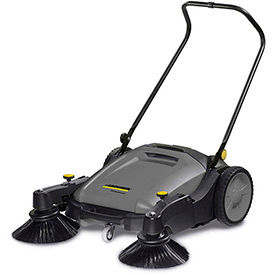 Karcher Walk-Behind Sweepers
Karcher Walk-Behind Sweepers Provide Surface Maintenance Cleanup for Sidewalks, Storefronts, and more.

Karcher walk-behind sweepers collect dirt and litter from hard floor surfaces. Push handle is adjustable for height accommodation. Select models are battery powered and suitable for both indoor and outdoor use. Most models feature a single brush. Gallon capacity and additional specifications vary per model.