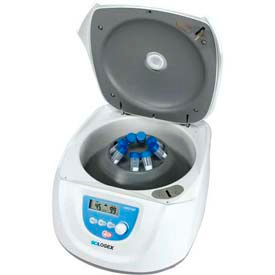 Scilogex Clinical Centrifuges
Clinical Centrifuges Is Used For The Separation Of Serum, Plasma, Urea, Blood Samples And Other Routine Applications In Hospital And Research Laboratories.

Clinical Centrifuges are constructed with a high strength plastic rotor and excellent balance technology for quiet and stable operation and for long lasting durability. Provides high accuracy of speed, excellent performance. Controls all operating parameters including speed and time, RPM or G-force can be set and displayed. Operation can be timed from 30 seconds to 99 minutes or continuous running. Timer commences once set speed is reached allowing for more accurate separation time. Gentle braking at low speeds with efficient separation. Parameters can be modified after set speed is reached. Quick spins possible by pressing and holding PULSE key. Automatic release lid when operation has stopped to save processing time. Easy-to-read backlit LCD processing display and sound alert. Can be pulse accelerated and held at speed. Brushless motor drive quickly and effortlessly accelerates the rotor to set speed. Conforms to international safety standards and regulations. Passed explosion-proof test and certified with CE, cTUVus and FCC. MCA test according to IEC/EN61010-2-20 including explosion-proof and bio-safe tests. Passed EN61010-2-101:2002 requirements for invitro diagnostic (IVD) medical equipment. Plastic rotor, rotor adapters, reading disk, fixing clips/O'ring and hematocrit centrifuge are also available. Size is 11 in. W x 10 in. D x 5 in. H. Maximum speed is 4,500. Maximum RCF is 2,490. Color finish is White/Blue. Package quantity is 1. 2 Year Warranty.