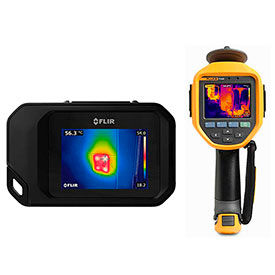 Thermal Imaging Guns & Cameras
Thermal Imaging Guns & Cameras Are Used For Electrical Contractors, HVAC/R Technicians, Building Inspectors, Energy Auditors And Plant Maintenance Teams.

They are made of high quality materials for long lasting durability. Variety of types and styles available to diagnose problems with motors, drives, pumps, mechanical equipment, electrical panels, chillers, air handlers, and identify energy losses around doors or windows. Also used to identify roof leaks and detect mold. Available in a variety of types, styles and coordinating accessories. Dimensions, display resolutions, colors and warranties vary per type. Quantity is 1.