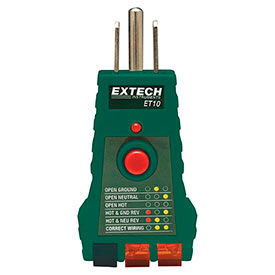 Current & Receptacle Testers
General Purpose Current & Receptacle Testers Are Tools For Various Electrical Testing And Measurement Applications.

General Purpose Current Testers are precision made for long lasting durability and dependability. Various devices designed for particular electrical testing and measurement applications. Include Receptacle Testers, Line Separator, Non-Contact Voltage Detector and Flashlight, AC Circuit Load Tester, Adjustable Voltage and Current Detector, Multimeter and Circuit Breaker Finder.