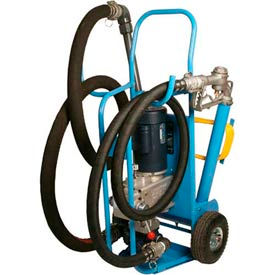 LiquiDynamics Bulk Transfer Carts
LiquiDynamics Bulk Transfer Carts Are Used For Transferring Or Filtering Viscous Fluids.

LiquiDynamics Bulk Transfer Carts are made of heavy gauge 1 inch steel, powder coated tubing for long lasting strength, durability and dependability. Carts automatically sense available circuit current, user selectable for either 15 or 20 amp circuits, and adjusts pump speed to maintain current draw below circuit breaker limits. Transfer Carts and Transfer Carts with PowerMaster types have 2 x 10 inch suction hose, 1-1/2 inch x 15 foot discharge hose, 1-1/2 inch manual nozzle and 12 gauge x 25 foot three wire power cord. Integral 2-1/2 gallon drip catch tank stores any drip page from the suction hose, stinger or discharge nozzle and has a drain valve. Cam-locks are provided on both ends of the suction and discharge hoses for easy removal of hoses and accessories. Transfer Pump Skids offer an economical, reliable and simple solution that utilizes a skid frame to house the pump, motor and gear box. Optional accessories may be ordered as necessary to customize skid configuration. Three Speed, Single Speed/Medium Viscosity, Medium Viscosity and High Volume/Light Viscosity type carts and skids are available. UL Listed.