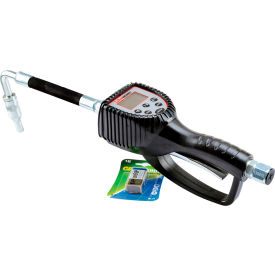 Oil Control Valve Guns
Lubeworks® B071J8ZYV7 Oil Control Valve Grease Coupling 360° Z-Swivel Accessory Part

SPECIFICATIONS - This Lubeworks 360° Z-Swivel can handle High Pressure and Grease/Oil Viscosities (according to NLGI: #2 classifications, w/ a Pressure Range of 60Mpa / 600BAR / 8700PSI. This Z-Swivel has 1/4" NPT Male/Female connections, allowing for compatibility to industry standard oil hose reels, control valves nozzles, hoses, etc.

EFFICIENT & SUPERIOR - Our Z-Swivel is made of high end quality steel to ensure strength & durability. We engineered our compact design has zero back pressure capability, delivering consistent flows & smooth dispensing during operation and has a great range of maneuverability of 360° rotation for optimal efficiency.

SAFETY & PROPER USE - This Z-Swivel is designed to supply easy connection to control valves/etc at High Pressure and Grease/Oil viscosities, w/ a MAX working temperature of -10°C/ 14°F to 60°C/ 140°F. Follow manual instructions for setup & always wear protective glasses/goggles or gear when operating lubrication/transfer equipment.

The Prestige LUBEWORKS Favor - Partner with us & join millions worldwide who empower their everyday lives, by using our Cutting Edge Equipment & Supreme Advanced Technology, to Conquer any task or obstacle. Arise & Gain Dominance over your 'Sphere of Influence' by starting here.

COMMITMENT - GreatCircleUSA is the only authorized seller of Lubeworks products & we are committed to providing customers with a stress-free shopping experience. Buy with confidence, we are ALWAYS here to help.