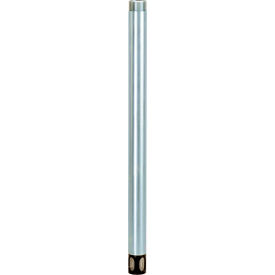 Oil Transfer Pump Extension Tubes
Lubeworks® B071J91R4D Oil Transfer Pump Extension Tube 26.5" with Diameter of 2-1/8" (54mm)

SPECIFICATIONS - Our Rigid Lubeworks Extension Tubes are made of heavy-duty resilient steel, designed to work with our Heavy-Duty Corrosion-Resistant 3:1 or 5:1 pump series. Universally Compatible with other TOP-TIER High-Pressure Transfer Pump Brands such as AlphaWorks, Lubeworks, & AmazonCommercial. This specific Extension Tube gives an additional 26.5" (670mm) of extension & with a diameter of 2-1/8" (54mm).

EFFICIENT - High quality pipe milling, delivering a secure fit & strong pipe that won't break. Resilient oil filter to catch unwanted debris, removable by twisting with heavy duty threads & includes an O-ring to create a tight seal, stopping unwanted leakage.

BEST USE - Typical fluids acceptable include: motor oil, synthetic oil, hydraulic fluid, crankcase, gear oil, AGMA grade, ISO/VG, waste/anti-freeze fluids & automatic transmission fluid. Suitable for oil/fluids up to SAE240 viscosities.

The Prestige LUBEWORKS Favor - Partner with us & join millions worldwide who empower their everyday lives, by using our cutting edge equipment & supreme advanced technology, to Conquer any task or obstacle. Arise & gain Dominance over your 'sphere of influence' by starting here.

COMMITMENT - GreatCircleUSA is the only authorized seller of Lubeworks products & we are committed to providing customers with a stress-free shopping experience. Buy with confidence, we are ALWAYS here to help.