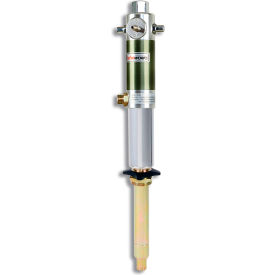 Pneumatic Oil Transfer Pumps
Lubeworks® B01NBZPGR1 Oil Transfer Pump Air Operated Pneumatic, PRO Heavy Duty Double Action

SPECIFICATIONS - This Air Operated (Pneumatic) Double Action Oil Transfer Pump has a High Flow rate of a Max 7.4GPM / 28LPM. A Max Pressure Ratio of 3:1. A Max Air Inlet Pressure of 5-8BAR / 70-115PSI. A Max Fluid Pressure of 24BAR / 350PSI. An Air Motor Effective Dia. of 63mm 2.5". An Air Consumption (per minute) @ 8BAR / 140L @ 115PSI / 5.0CFM. An Air Inlet Connection of 1/4" & Oil Outlet Connection of 3/4" Male. A Long Pump Life of 840k Liters / 221k+ Gallons.

EFFICIENT DESIGN & CAPABILITIES - Our Transfer Pumps are Double Action & Self Priming designed, delivering the fast & precise flow rates. This Smart design uses fewer parts for less pump wear & tear, making it is easy to use & maintain. This pump is best suited for a Multiple Fluid types of medium to high viscosity at a short to medium distance, typical fluids handled include: motor oil, synthetic oil hydraulic, gear oil, automatic transmission fluid & suitable up to SAE130 grade oil.

PROPER USE & SAFETY - All our pumps come with a 2" Adjustable Bung adapter, for easy installation for barrel mounted applications. This pump can be barrel, cart or wall mounted. A Wall Mount Kit or Extension Tube Kit are Sold SEPARATELY. Follow manual for setup & always use the proper additional equipment as listed in the manual when installing pump & always wear protective glasses/goggles or gear when operating equipment.

The Prestige LUBEWORKS Favor - Partner with us & join millions worldwide who empower their everyday lives, by using our Cutting Edge Equipment & Supreme Advanced Technology, to Conquer any task or obstacle. Arise & Gain Dominance over your 'Sphere of Influence' by starting here.

COMMITMENT - GreatCircleUSA is the only authorized seller of Lubeworks products & we are committed to providing customers with a stress-free shopping experience. Buy with confidence, we are ALWAYS here to help.