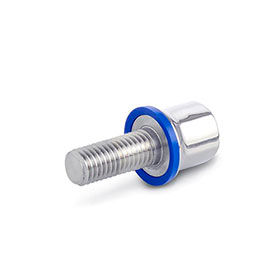 Hygenic Design Screws
Hygienic Design Screws are intended for use in Hygienic Design Applications in Hospitals, Cleanrooms and more.

Hygienic Design Screws have a sealed flange surface to enable components to be mounted without dead spaces. The high quality finish as well as the large corner radii and closed surfaces prevent adherence of dirt and facilitates cleaning. Threads are M5 and M10. Stud lengths range from 10mm to 40mm. Sealing ring diameters range from 12.8mm to 21.8mm. Head lengths and diameters vary per style. Finishes are matte or polished. Screws are EHEDG and 3-A Sanitary Standard Inc. certified for use in hygienic areas.