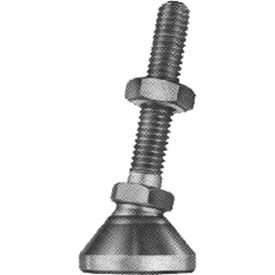 LEVEL-IT™ Leveling Mounts
LEVEL-IT™ Leveling Mounts Are Used For Use On Machine Tools, Electronic Racks, Benches And More.

LEVEL-IT™ Leveling Mounts are made of solid zinc plated steel for long lasting durability and dependability. Sturdy base firmly holds threaded stud with ball joint end designed to swivel 10-15° to all sides of the centerline to adjust to uneven surfaces. Large diameter pad design assures solid support. Coupling nut is not recommended to use for installation. Use nut or tapped hole of 1 to 1-1/2 times the thread diameter being used. Available in 700 to 20000 lb. load capacity units. To insure proper leveling mount size, divide the machine weight by the number of mounts required. This will equal the pounds or load per mount. Selection of 3/4 to 4 inch base diameter, 1 to 6 inch stud length mounts are available with various thread sizes.