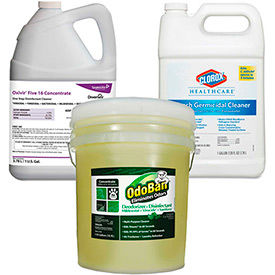 Liquid Sanitizer & Disinfectant
Liquid Sanitizer and Disinfectant are EPA Registered and Certified for Optimum Cleaning Power.
Liquid Sanitizers and disinfectants are certified to remove bacteria, viruses, fungus, mold and mildew from surfaces as part of standard sanitary maintenance operations in food service, education, and healthcare facilities. Disinfectant solutions, scents, and additional specifications vary per model.
Sanitizers preserve hygiene for hands to prevent contact with food-borne illnesses, such as e. coli and salmonella1 on most surfaces in as little as a minute.
Disinfectants are fast acting and effectively break down bacteria, viruses and fungi such as staph, pneumonia, herpes, measles, smallpox and HIV1 on a surface when left to dwell for 10 minutes for more.
Quaternary Ammonia and Hydrogen Peroxide formulas contain powerful surfactants that clean and disinfect surfaces in one easy step.
1
Please read product label and SDS for complete kill claim list and directions.