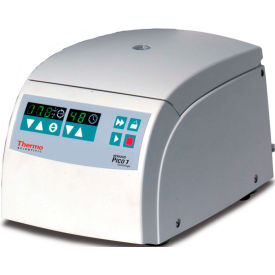 Thermo Scientific™ Centrifuges
Thermo Scientific™ Centrifuges Are Used For Applications Including Medical, Pharmaceutical, Laboratory And More.

Thermo Scientific™ centrifuges are made of high quality materials for long lasting durability and dependability. Centrifuges process a range of general purpose applications including cell culture, microplate, bioproduction, blood separation, microbiology and more. System offers an intuitive control panel and digital display for convenient operator access and control. Operation information maximizes performance and temperature accuracy for improved sample protection. Innovative lid locking technology allows convenient closing and locking of centrifuge lid. Double temperature management system displays sample and air chamber temperature, ensuring accurate temperature control during run. Convenient chamber access promotes convenient maintenance, healthy work environment and unit longevity. Advanced rotor management system maximizes acceleration, braking and residual load imbalance. Compact size conserves workspace, ergonomic design allows operator comfort and energy efficiency provides cost effectiveness. Includes integral 30-min. timer with HOLD mode, power interruption lid and maintenance-free brushless motor. Available styles include Heraeus Biofuge Stratos Centrifuge, Heraeus Fresco 17 Refrigerated Microcentrifuge, Heraeus Fresco 21 Refrigerated Microcentrifuge, Heraeus Megafuge 16 Ventilated Centrifuge, Heraeus Megafuge 16R Refrigerated Centrifuge, Heraeus Megafuge 40 Ventilated Centrifuge, Heraeus Megafuge 40R Refrigerated Centrifuge, Heraeus Fresco 21 Refrigerated Microcentrifuge and more. Capacities are 4 x 180mL, 4 x 400mL, 4 x 1000mL, 6x 15mL, 12 x 10mL and 24 x 1.5/2.0mL. Max RCFs are 1228 x g, 17000 x g, 21100 x g, 25830 x g and 44910 x g. Max speeds are 3100, 13300, 14800, 15200 and 22000 RPMs. UL listed, CSA certified and CE marked. Dimensions vary per model.