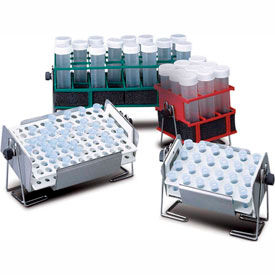 Thermo Scientific™ Laboratory Shaker Clamps
Thermo Scientific™ Laboratory Shaker Clamps Are Used For Applications Including Medical, Laboratory, Pharmaceutical And More.

Thermo Scientific™ laboratory shaker clamps are made of high quality materials for long lasting durability and dependability. Clamps provide labware stability and spillage prevention during shaker testing. Units accommodate various quantities and capacities for application versatility. Type is Shaker Clamps. Available styles include Erlenmeyer Flask Clamp, Fernbach Flask Clamp, Flask Clamp Starter Kit, Full-Size Test Tube Rack Clamp, Half-Size Test Tube Rack Clamp, Low Form Culture Flask Clamp, Microplate Clamp and Microplate/Deep-Well Plate Clamp. Capacities range from 1.5 ml Microcentrifuge Tubes to Mircroplate/Deep-Well Plate. For use with MaxQ 8000 Shakers, MaxQ Shaker Platforms and MaxQ Shaker Universal Platforms. Package quantity is 1. Color finishes are Blue, Green, Orange, Red, Stainless Steel and White. Dimensions vary per model.