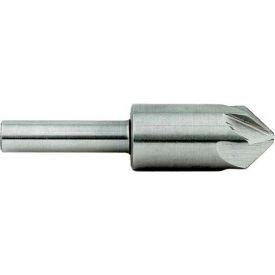 6 Flute Chatterless Countersinks
6 Flute Machine Countersinks Are Used For Cutting With Milling Machines, Drill Presses, Screw Machines, Lathes And Hand Tools.

6 Flute Machine Countersinks are made of high speed steel for long lasting durability. Six flute design increases the penetration rate and reduces harmonic cutting action allowing less chatter. Countersink angles are 60°, 82°, 90° and 100° Overall lengths are 3-7/8" to 5-3/8" Diameters are 1/2" to 1-1/2" Shank diameter is 1/2" and length is 2-1/4"