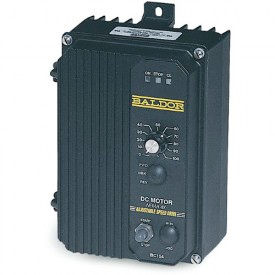 Baldor NEMA 4X DC Controls
Baldor-Reliance NEMA 4X DC Controls Are Used For Conveyors, Mixers, Packaging Machinery And Other Applications Requiring Variable Speed And Constant Torque.

Baldor NEMA 4X DC Controls are solidly made for long lasting durability and dependability. Full wave SCR control with free wheeling diode. Field power supply allows use with shunt wound DC motors as well as permanent magnet motors. Adjustable accel, decel, current limit, IR comp, min and max speed. Current limit indicating LED. 5K speed pot for speed control. Anti-demag circuit protects PM motors and helps protect the SCR power bridge against direct shorts. Noise rejection circuit eliminates false starts and blown SCR's. C154-R is BC154 with BC156 FBR Switch factory installed. UL and cUL recognized. Available in single phase, 1, 2 and 3 horsepower 230V and 115/230V units. Various switching accessory kits also available.