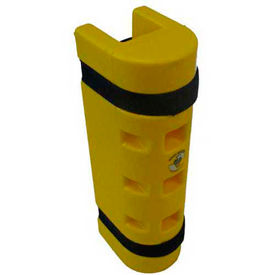 Rack Sentry® Pallet Rack Protectors
Rack Sentry® Pallet Rack Protectors Attach to Rack Uprights to Protect them from Damage.

These Pallet Rack Protectors are made of flexible EVA material to absorb impact by flexing, then returning to shape to work again. Rack have been tested to a limit of 3mph (5km/h) using a 5,000 lb. (capacity) forklift without visible damage to the rack upright, forklift, or product. Available styles are Rack Protector and Contour Protector. They fit 3" to 4'3/4" wide racks, wide end racks, and wide racks with beams. Widths range from 5" to 7-1/2". Installs directly to the rack upright, eliminating the need to drill into the floor at the rack upright. Using rack puts no stress on the floor. Color is Yellow. Protectors are stackable for twice the strength. Easy install.