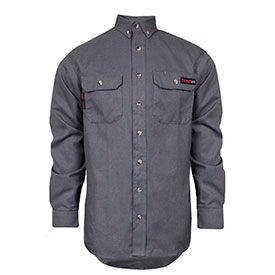 NSA Mens Fire Resistant Work Shirts
NSA Mens Fire Resistant Work Shirts Provide Worker Fire Protection In Construction, Industrial, Manufacturing, and Other Related Applications.

The flame resistant design prevents melting, dripping, igniting, or washing out for lasting reliability in the harshest conditions. The lightweight, breathable fabric manages moisture for an improved drying rate and overall user comfort. Machine washable. Available styles include Flame Resistant Utility Shirt and Flame Resistant Work Shirt. ARC ratings are 8 cal/cm2, 9.3 cal/cm2, 10 cal/cm2, and 12 cal/cm2. Colors are Gray, Light Blue, Medium Blue, Navy, and more. Sizes range from S to 5X-LN.