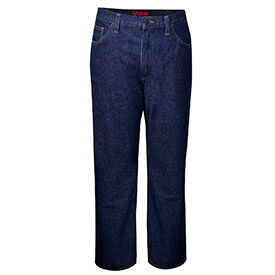 NSA Flame Resistant Work Pants
NSA Flame Resistant Work Pants Provide Fire Resistant Protection For Construction, Industrial, Manufacturing, and Other Related Applications.

These work pants are designed for high performance durability and moisture management for user comfort. The flame resistant fabric will not melt, drip, or ignite for added safety and protection. Includes up to 5 pockets for increased storage convenience. Machine washable. Available types are Zipper and Zipper & Button. Ratings are 9.7 cal/cm2, 12 cal/cm2, 14 cal/cm2, 15 cal/cm2, and 21 cal/cm2. Colors are Classic Denim, Denim, and Navy. Sizes range from 30 x 30 to 52 x 34.