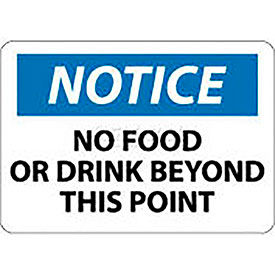 Food and Beverage Signs
NMC N310RB OSHA Sign, Notice No Food Or Drink Beyond This Point, 10" X 14", White/Blue/Black

OSHA signs are the perfect way to alert your employees and guests when a hazard is present in your facility. Keep your facility safe, buy an OSHA regulated sign today and prevent an accident tomorrow. These OSHA signs comply with OSHA 29 CFR 1910.145.