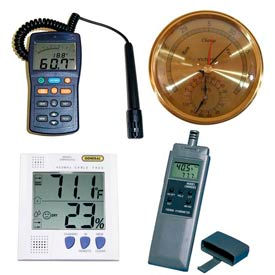 Hygrometers & Psychrometers
Hygrometers And Psychrometers Are Used For Monitoring Humidity And Atmospheric Conditions In Painting Operations, Museums, Winemaking, Contractors, And Industrial Applications.

Hygrometers And Psychrometers are sold in a wide variety of models from basic manual and analog to digital. Psychrometers are used for measuring dewpoint. Choose from basic sling, wet bulb, and remote probe digital types with options such as calibration, portability, and data recording. Hygrometers measure atmospheric humidity and moisture in materials. Choose from analog dial and digital types with and without thermometers. Thermo-Hygrometer Pen is designed for contractors and homeowners to check home comfort, ventilation and greenhouses. Wireless Data Logging Weather Station can accommodate up to five wireless transmitters to monitor air pressure, temperature, humidity, dewpoint, windchill and more for past 24 hours. Includes software for PC. Varety of other styles available. Barometer with brass case also available. Dimensions vary per style.